Review: Glow in the Dark pigments
Phosphorescent objects take on a mysterious aura by having the dual nature of being observable in both the presence and absence of light. In recent years, I've experimented with different kinds of phosphorescent pigments because they're a lot of fun to work with and the results can also function as handy night lights when you find yourself lost in the dark.
Study of phosphorescent materials led to the discovery of radioactivity but luminous paint itself is NOT radioactive. "Glow in the dark" paint is typically made from zinc sulfide or strontium aluminate, which typically glows a pale green to greenish-blue color. Those made with strontium aluminate typically absorb more light and glow for a longer period.
DecoArt Glow in the Dark Acrylic Paint
DecoArt's Glow in the dark acrylic paint is the easiest to find. It can be found in any hobby or art supply store, sometimes even grocery stores. I've used this on Twyla and Ashe with relatively good results.
The medium has a translucent yellow color and dries clear. Upon closer inspection, you'll see some of the phosphorescent pigment as specks. To achieve a brighter "glow" effect, you'll have to paint several layers which will eventually form a flat, opaque yellow.
I like that it can be used as a "finish" due to its translucency but it was a little disappointing in the glow department. It looks as if there's a lot of filler and I can't quite tell if the yellow color while the medium is wet occurs because of the phosphorescent pigment or the color of the liquid filler. The glow effect only lasts for a few minutes no matter how long you leave it under a light source to charge.
Techno Glow
I don't know if there's such a thing as "Artist Grade" Glow in the Dark paint but I looked for the actual pigment to make the a mixture from scratch that I can work with. I was recommended to Glonation and GlowInc but since they sell either wholesale or only in large quantities, I looked at Etsy for suppliers!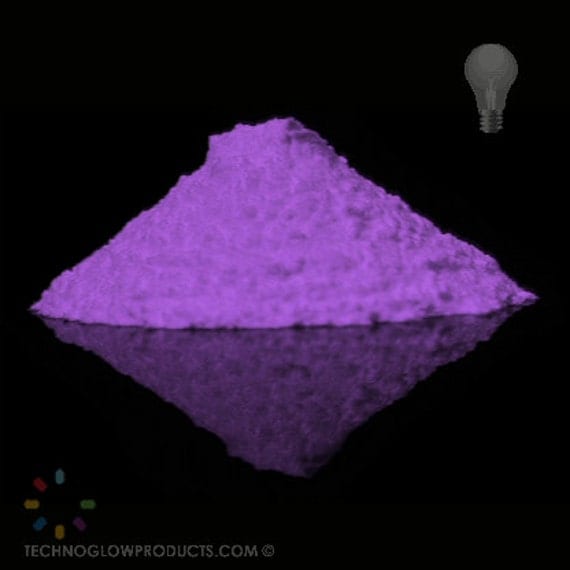 My search led me to TechnoGlowProducts.  I've seen green as the one and only color option available for acrylic paint so the color variety was exciting!
Techno Glow's pigments have the consistency of granulated sugar. I mixed it in with Liquitex Medium to create my own paint mixture. Due to its consistency, it had a rougher texture than DecoArt's acrylic paint as seen in Enigma.
I love the color variety but I wish the granules were more powdery for it to be a more effective painting medium.  I had to carve out grooves (as seen in Golem below)  so that the phosphorescent granules weren't raised and looked more natural on the surface.
I don't know if there's a way to thin the granules down into a more powdery form but the color variety is just too difficult to pass on. Techno Glow's phosphorescent powders are best suited for resins and polymer clay. They did recently add an acrylic paint version which is promising!
Pearl Pleasures
PearlPleasures specializes in Pearl pigments, which is something I like to use on dolls for their color-changing quality and sparkle! I use them as a substitute for glitter to scale down a look for 1/6th scale dolls. The shop recently added phosphorescent pigment in their inventory which means that it's likely that they were in powder form–exactly what I needed for painting!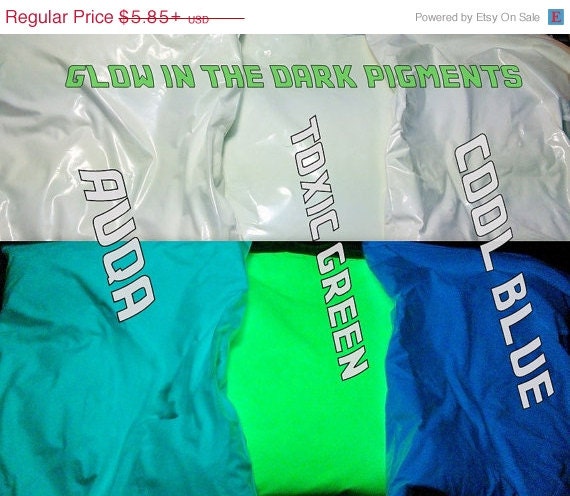 At the moment, they only have Aqua, Toxic Green and Cool Blue as color options. I'm hoping that they can get other colors added in the future. These pigments have the consistency of talcum powder, which made them perfect as a painting medium. I tested them out on Skelita because who wouldn't want to see a floating, glowing skull in the dark?
These pigments had better results than Techno Glow's pigment. Even at a short charge time, the glow seemed to have lasted for hours. My Skelitas had a bright glow for several hours. This may be due in part to the powdery consistency so I was able to have a more even phosphorescent pigment layer.
Toxic Green remains king of all colors here and was able to glow brighter than my Aqua despite being a thinner layer. I had to apply an extra layer of Aqua compared to Toxic green for it to have a similar glow power.
As a result, my Aqua has a rougher texture while Toxic Green has a relatively smooth surface similar to the texture on Skelita's body.
End Note
Watch the Skelitas demonstrate their newly found "glow" power!
There seems to be a recent influx of sellers at Etsy that supply phosphorescent pigments but I am fond of Techno Glow and Pearl Pleasures since the pigment is manufactured in the US. That's always a plus for me since the sellers are intimate with how the product works. I highly recommend these suppliers as they ship fast, are friendly and helpful.
Commercially available phosphorescent pigments typically have the consistency of granulated sugar. As seen in Enigma and Golem, they will work if you don't mind the rougher look and texture. Pearl Pleasures is currently the only supplier I know of that has a powdery variant of the pigment which is best suited for painting especially in miniature scale. With the growing number of color variants available, it would be fascinating to create something that can only be viewed in the dark!

"The Game" starring Michael Douglas. Photo Credit: Mondo-Digital.